Education
In addition to the evaluation of national qualifications, a conversion key for European educational institutions ensures that studies completed outside of Switzerland are also recognized.
Below is an overview of the classification and evaluation matrix:
Professional experience
A further essential part of the basic analysis is the evaluation and assessment of practical professional experience. Based on the occupational profile and group, a weighting is made of the individual professional experience. The calibration key is the relevance of the activity according to 'Core Computer Science'.
Each professional activity is clearly assigned to a job profile from the ICT professions. This serves as the initial value in the weighting of the individual professional activity.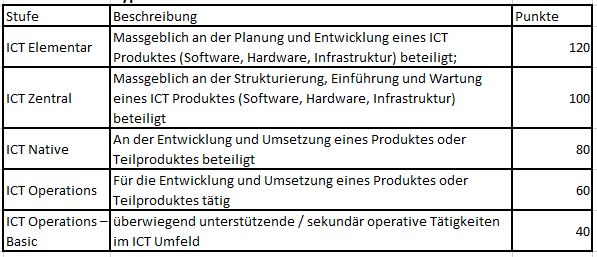 The classification of a job profile is based on the following question: 'How significantly is the job holder involved in the planning and development of an ICT product (software, hardware, infrastructure)?'
The calculated value is extrapolated for each professional year and added up based on the duration of employment. This results in an individual point value calculation.
Calculation example: 'Reto, 52, ICT architect'
Further education and training
In the third part of the basic analysis, all further education and training completed by the candidate is included in the evaluation. It is essential to know where the individual training or education took place and the content, duration and degree. If an advanced training course cannot be automatically grouped, our experienced experts carry out an individual classification.